Ambitions of A1 Telekom Austria Group for digital literacy:
 
Social ambition by 2023 is educating more than 100.000 people - especially focused on children and youths - in the digital literacy segment, giving people the confidence and skills to actively shape the digital world and the ambition for corporate governance by 2023.

The Internet is not just a game...
Click Safely!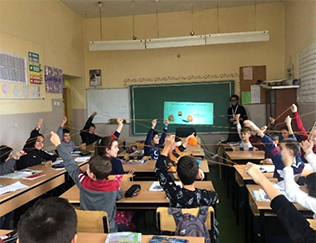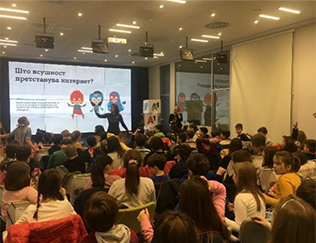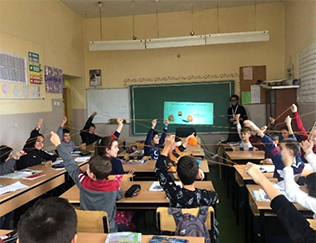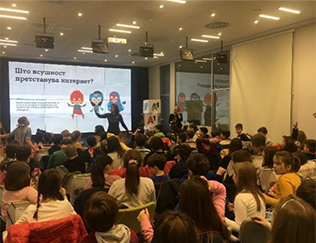 With the realization of an educational and innovative program, under the name "The Internet is not just a game. Click Safely!" aimed at the youth, our employees, through interactive and interesting lectures adapted to the age and the educational program, introduce the fourth grade students and enrich their knowledge of the Internet, how to be safely part of the world wide web, and how to protect their personal data.
The program is implemented in cooperation with the Ministry of Education and Science, and with the approval of the Bureau for Development of Education. In the first wave of activities, in the period from February to June 2018, more than 700 fourth graders from 10 primary schools in the city of Skopje were covered, and in the school year 2018/2019 more than 1.200 fourth graders from 20 municipalities in our country were covered. At the beginning of 2020, 2 lectures were held at the company's premises, attended by the youngest members of the A1 family, fourth graders, with their grades.
In February 2021, A1 Makedonija continued with educational lectures for fourth graders across the country, but due to the conditions in which classes are held in schools, this school year the workshops are held online, through the MS Teams platform. In this fourth cycle of lectures, 8 workshops were held in the cities of Skopje, Strumica, Veles, Kavadarci, Tetovo and Shtip, and over 750 students were included.
So far, more than 2.500 students from all cities across the country have taken part in the "Internet is not just a game. Click Safely!" in recent years.
Brochure (.pdf)