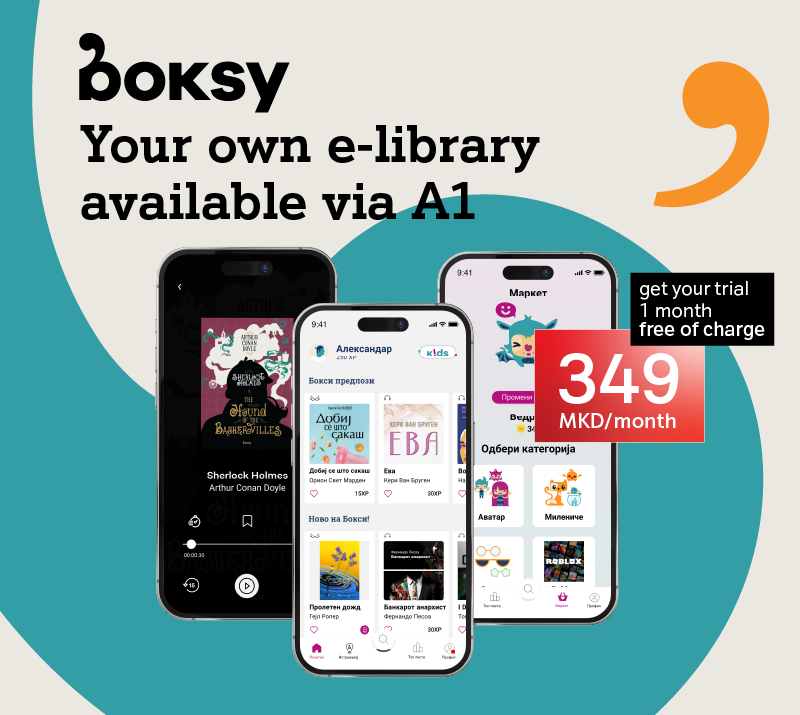 What is Boksy?
Boksy is the first app in Macedonia for reading and listening audiobooks, designed for all ages.
Boksy offers many books in Macedonian, English and Albanian from both Macedonian and international publishers, allowing users to read or to listen to audiobooks on their devices. In addition to books, the app also contains a plethora of educational quizzes, daily and weekly challenges, option for creating user avatars, as well as a possibility for competition and winning unique prizes for those true bookworms out there.
With Boksy, enjoy the most popular titles for both adults and children, anytime, anywhere.
How to activate Boksy
Boksy is available for activation to all A1 Postpaid customers using mobile and fixed services for 349 MKD/month.
Activate the Boksy bundle via your "My A1" mobile app, call the Contact Center at 077 1234 or visit any A1 store.
After activation, you will be sent SMS or e-mail activation code, which needs to be entered to register on Boksy app or Boksy webpage.
---
(i) Charging for using Boksy will start after the end of the trial period, which can be used only once. Subscription for Boksy is charged in the A1 monthly bill issued for services used by customers. The subscription will be automatically extended for each consecutive month (for new set of 30 days), unless the service has been deactivated. Boksy can be deactivated via the My A1 mobile app, in any A1 store or by calling the Contact Center at 077 1234.