Your mobile phone is much more than a simple mobile device. It is your morning alarm clock, your camera or click to your favorite song or taxi when you most need it. In fact, all you need is on your mobile phone. If it were to break, you would be left without your "everything". By insuring your screen, make sure that your phone will be as good as new, no matter how and where the damage has occurred.

Around 80% of all damages, in fact, refer to phone screen damages.

The average cost for phone screen replacement is around 6,000 MKD.

One in five people get their device damaged in the first year of use.
How to enter a Screen Insurance Agreement?
Screen insurance is available for activation upon device purchase, at any A1 store.
No contractual terms apply to this service, meaning you can cancel it at any time.
Screen insurance is payable depending on the price of your device. For devices up to 19,999 MKD, the screen insurance fee is 49 MKD/month, and customer's participation in damage compensation is 750 MKD. For devices over 20,000 MKD, the screen insurance fee is 199 MKD/month, and the customer's participation in damage compensation is 2,500 MKD. The payment is done through your A1 monthly bill.
The first month you get the service for free.
The Screen Insurance service can be activated no later than 30 days after purchasing a new mobile phone from A1 and concluding a new or renewing a 24-month contract with A1 Postpaid.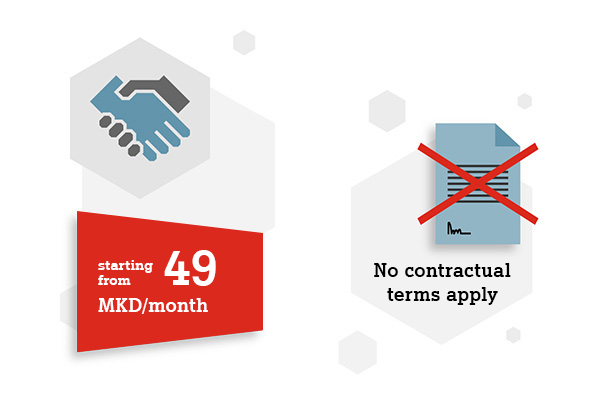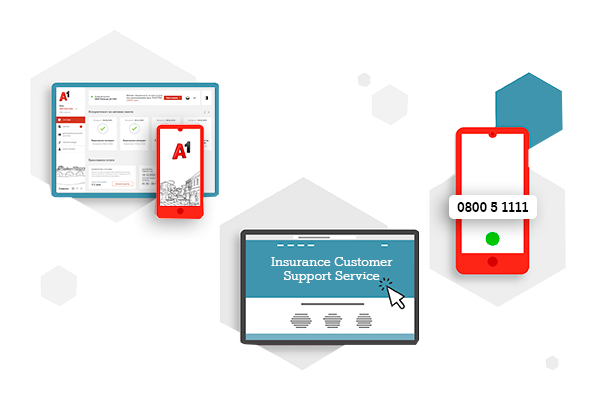 What if my phone screen gets broken?
Any damages occurring due to broken phone screen need to be reported to the Insurance Customer Support Service at 0800 5 1111.
Where do I need to take my device?
Please take the insured device to the closes A1 store.
Your device will be repaired by the safe hands of the authorized service.
You will be notified to pick up your device from the same store you have left it at.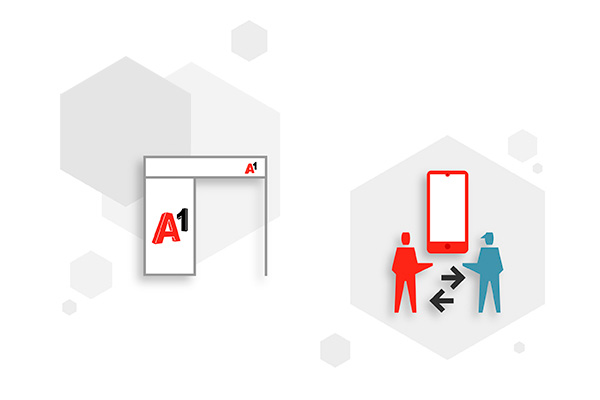 Insure your screen in several simple steps
The monthly premium payable will depend on device's retail price. The amount may start from 49 MKD/month for one insured device screen, which is payable in advance for an insurance period of 30 days and is calculated and charged on customer's A1 monthly bill. Your first A1 monthly bill issued following the entrance into the Screen Insurance Agreement will contain the premium for the first 30-day insurance period, as well as the premium for the second 30-day insurance period, so you can be sure that the screen of your device is continuously insured. All subsequent A1 monthly bills will only contain one premium.
You can enter a phone insurance agreement (Insurance Policy) for each new device (phone) from A1 offer. The phone screen insurance policy is valid as of the date of the agreement for a period of 5 years at the longest. The Insurance Policy is valid as long as you pay your A1 monthly bills in timely manner. A1 phones are insured by Kroacija Osiguruvanje in line with the Terms and Conditions of the product bought from the mobile carrier A1 Macedonia DOOEL Skopje. Based on the insurance terms, the screen of your device will be repaired or replaced, but you can also have your money paid for the device refunded. The Insurance Agreement starts on the exact date and time as listed in the Insurance Agreement (the insurance certificate). The customer will be charged damage compensation participation upon every phone defect report. Screen insurance can be cancelled at any time by sending cancellation e-mail to a1osiguruvanje@lamie-direct.com and by listing as follows: policy number, phone number, name, last name, address, device type/name, device IMEI.