In the global world, security risks, such as ransomware and crypto-malware, are a real threat to both small and large companies. A1 offers you a possibility to minimize the need of constantly educating your employees and to minimize the need for capital investment in purchasing security equipment. At the same time, our solutions will help you improve your employees' efficiency (e.g. by blocking the access to social media sites or YouTube).

This service features:
Significant decrease of the risk and potential damages of cyber attacks
Simple use, without any need of advanced skills and knowledge in the area of information technologies
Optimal ratio of cost and quality
You will be able to focus on your primary activity
The A1 Cloud Firewall service is an advanced next generation Checkpoint-based solution of firewall protection which filtrates internet traffic through several OSI layers. In order to reach maximum protection of your infrastructure and working stations, we recommend using A1 Cloud Firewall in conjunction with an antivirus solution from our wide offer.
The service features as follows:
Web filtering
Antivirus protection
App control
SSL traffic inspection
A1 Cloud Firewall is located at A1's state-of-the-art data center and it acts as a security barrier between your network and the internet.
Recognize potential risks on time
and protect your system against cyber attacks
Nowadays, companies face increased challenges, primarily in the area of information safety. Therefore, we need to be aware that cyber attacks take place every 39 seconds, meaning that a single information system is exposed to risks approximately 2244 times a day. Detecting system weaknesses is surely one of the best steps to take before corporate infrastructure falls victim to an actual cyber attack.
The Offensity service is designed precisely to avoid this!
Offensity Security Monitoring is an automated solution designed specifically to detect infrastructure's potential weaknesses and shortcomings and to ensure that the user is aware of the big picture regarding the vulnerability of the overall IT environment that attackers (hackers) could use to plan and realize cyber attacks.
Completely automates scanning option, no need of local installation
Online risk scanning for a given domain
Continuous infrastructure scanning feature, constant checks for new vulnerabilities
Overview reports for all vulnerabilities detected, classified by risk level
Specific recommendations for overcoming vulnerabilities detected.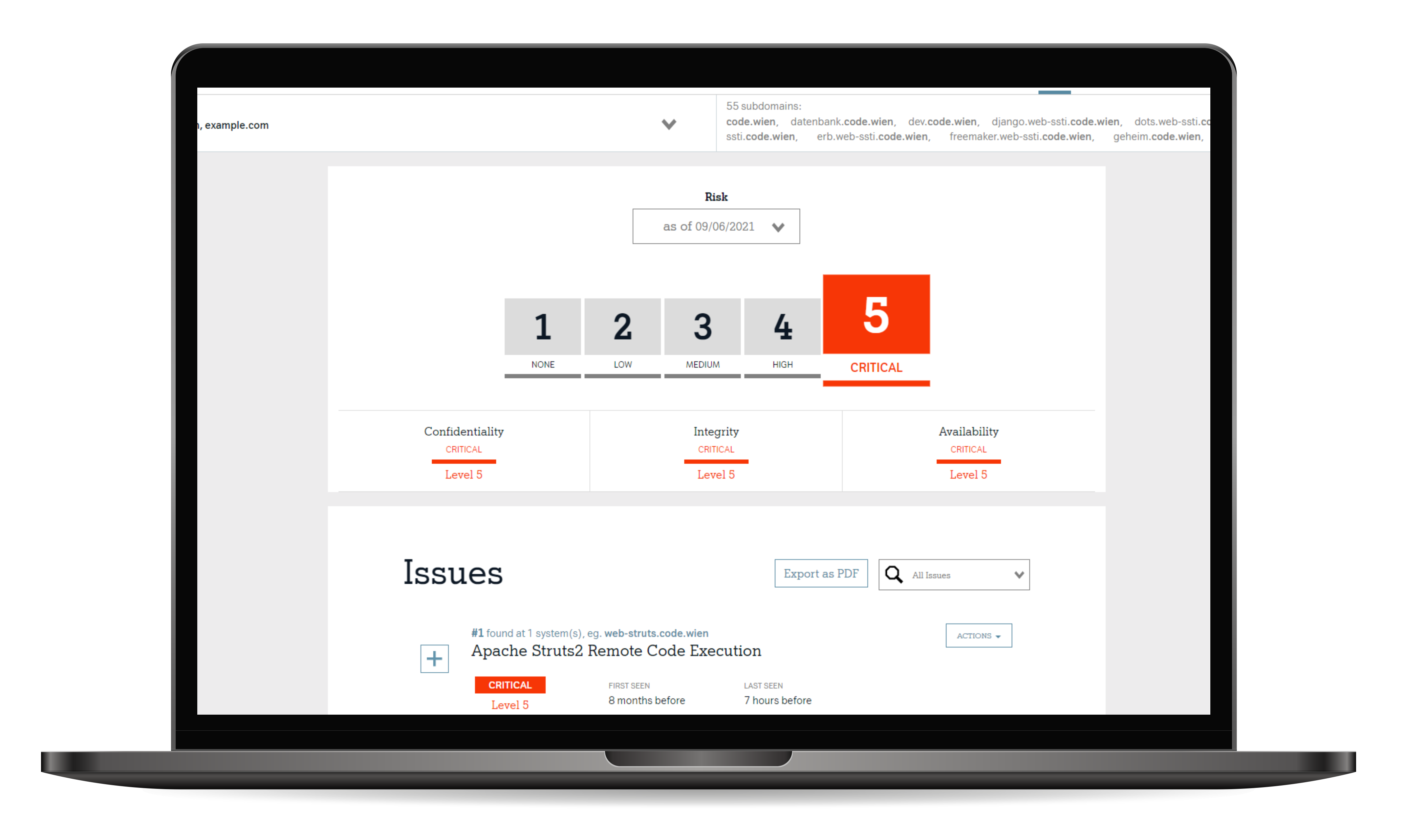 Offensity performs regular scan of your public intranet infrastructure and detects and reports on all risks identified and includes scanning of network vulnerability of web, DNS (Domain Name System) safety, data leakage, checks for systems appearing on black lists etc.
In addition, Offensity also monitors safety data (e-mail, usernames, passwords etc.) connected to your domains available online.
The service generates reports on risk identified, it performs risk classification based on the level of risk (from low risk to critical), and it also provides the required data to remove risks, although the service itself does not have an option of removing identified risks and vulnerabilities. Please note that you are solely responsible for reviewing identified vulnerabilities and removing them.
Bundles and Fees
 
Offensity Professional
Offensity Professional 1-год
Offensity Enterprise
Monthly fee (MKD, VAT exclusive)
24.000,00
18.000,00
Customized offer depending on customer's needs (for >100 subdomains)
Monthly fee (MKD, VAT inclusive)
28.320,00
21.240,00
Number of user profiles
5
5
Number of internet domains
5
5
Number of subdomains
100
100
Service agreement validity
-
12 months*
*if the customer does not ask for service deactivation after the expiry of the current service agreement, the service agreement is automatically extended for a period of 12 months.
Offensity database is constantly updated to include data on last known internet fails and vulnerability is also updated to include new vulnerabilities; however, this cannot guarantee that Offensity can recognize all new and existing vulnerabilities or that the user cannot be targeted by a cyber attack despite they have removed the vulnerabilities recognized by Offensity.
The Offensity service is provided by A1 Digicatl, member of the А1 Telekom Austria Group. By activating the Offensity service, customers are hereby informed that they are required to additionally sign a service agreement with А1 Digital, and they are bound to observe the Terms of Use applicable to the Offensity service, available on the webpage of А1 Digital.
Part of our clients