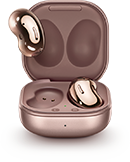 Buy Galaxy Note20 Ultra
You get Galaxy Buds Live wireless headphones in mystic bronze color

Buy Galaxy Note20
You get Galaxy Buds + wireless headphones in white color
Right after the global premiere, be the first to order one of the newest Samsung Galaxy Note20 smartphones featuring Galaxy Buds+ gift (white) or Samsung Galaxy Note20 Ultra featuring Galaxy Buds Live gift (bronze).
To make a reservation, we invite you to sign an agreement to purchase a phone with deferred delivery terms and advance payment of 2,999 MKD both online or at any A1 store.
Make a reservation for your Samsung Galaxy Note20 / Note20 Ultra by 20.08.2020 at the latest, then, register at samsung.com/mk by 13.09.2020 at the latest, and you will get Galaxy Buds Live or Galaxy Buds+ wireless earbuds which will be delivered additionally to your home!
Please note that you will be able to pick up the reserved phone once you have paid off the complete price of the phone, starting as of 21.08.2020.
For more information, please call 077 1234.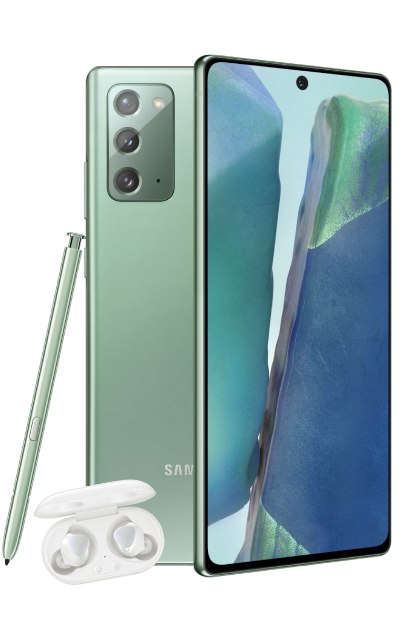 6.7" Super AMOLED Plus screen
8-core processor
10MP front camera
12MP + 12MP + 64MP back camera
256GB memory
8GB RAM memory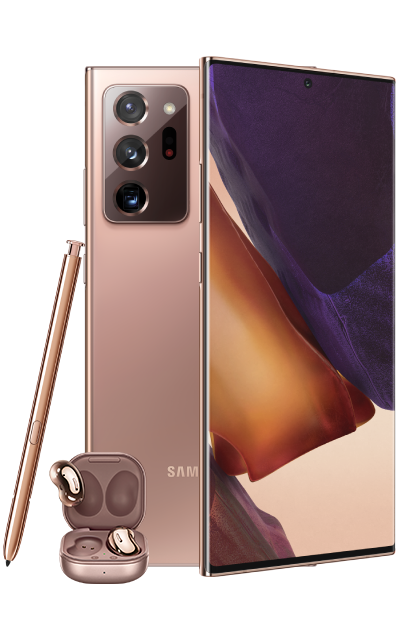 6.9" Dynamic AMOLED 2X screen
8-core processor
10MP front camera
108MP + 12MP + 12MP back camera
2568GB memory
8GB RAM memory